The Apostle Paul instructed the believers to be of the same mind.

When we are born again, we do not immediately have a complete understanding of God's wisdom. We do however have the same spirit as Jesus and are enabled to receive the right thinking to know what is right and what is sound teaching.
This involves a process of learning and instruction along with a lifetime relationship with God.
Jesus the Head of the church has placed certain men to instruct His church who speak on His behalf to edify His people.
To be of the same mind then, is receiving revelation from Jesus and not reasonings and doctrines originating from the error of men's own ideas.
Jesus doesn't want you to take religious sounding ideas that men have devised, He wants you to follow Him and those who He has placed in the church that He has established.
Paul the Apostle also instructed the believers to follow his example or pattern of life and the faith he has in Jesus.
It is good that we find those champions of the faith, who have gone before us and who can mentor us in what they have received mightily from God. From their own experience and depth of understanding, they can instruct the church of God, inspiring believers to go the max in God and hit the mark in this world for the Gospel of Jesus.
We need those who Jesus has placed in authority to follow as an example as they follow Jesus.
That is what it is all about for us who believe in Jesus, that we and everyone else are helped along so that we in turn can help others when we find our place in God's plan.
As well as having a very powerfully gifted ministry internationally,
Dave Roberson has unlocked vital revelations in God giving insight to me and many others in the churches of Jesus Christ on revelations of how to walk the christian life effectively.
Dave Roberson also introduces the third and mighty person of God, the Holy Spirit, with definite steps on how to directly receive God's counsel and guidance into all truth.
This book "The walk of the spirit, the walk of power" is a manual of how to follow Jesus and become more like Him everyday, or as much as you want to.
You will want to, I am convinced of that.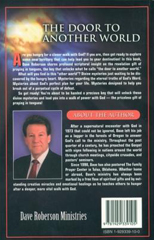 Book Cover Images. Copyright © Dave Roberson Ministries.

Now you can download this book by generous offer:
Iktus free download of Dave Roberson book
also now available at Dave Roberson Ministries

Dave Roberson has many inspiring teachings, as he has spent time to dig deep into God, pulling out real treasures of revelation, as the Holy Spirit imparts truths that were mysteries to the natural mind. Through these times of intense searching God has given to Dave Roberson the understanding to what has previously been hidden even to the finest theologians and scholars of the bible.
The Gospels, John, the Apostle Paul's epistles come to life once again, the same Holy Spirit who revealed to Paul powerful truths, is still available for the believers today.
The foundational teachings that the early church had in the days of the first apostles are now returning to the church today, it is time to take hold of God like never before and see His Kingdom come in a greater dimension of power.
God will give in abundance to those who earnestly search and keep on knocking, the walk of the spirit, the walk of power will be unlocked as God leads us into all truth.
The born again series by Dave Roberson is a must to get as well as many other powerful teachings available at the following:
Dave Roberson Ministries